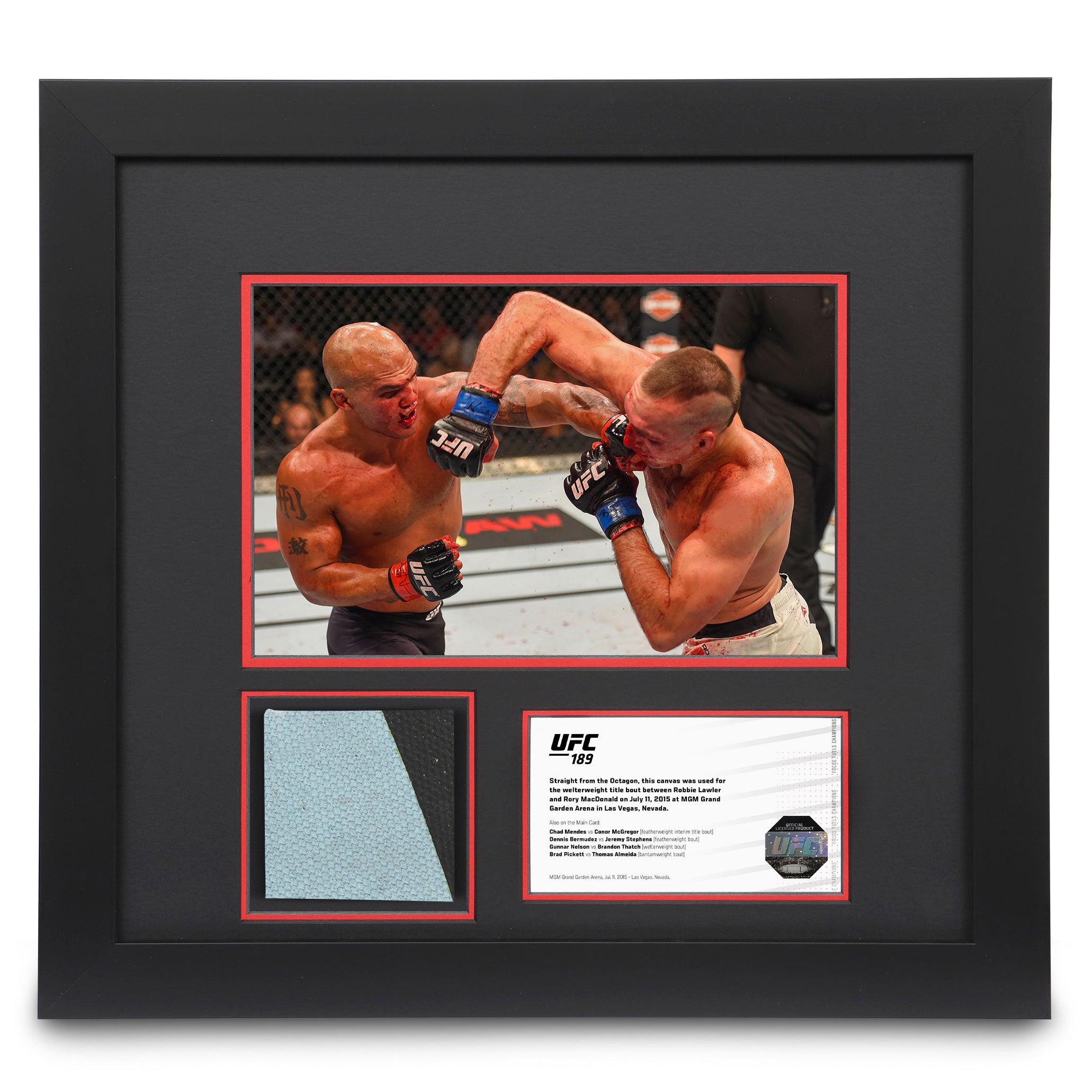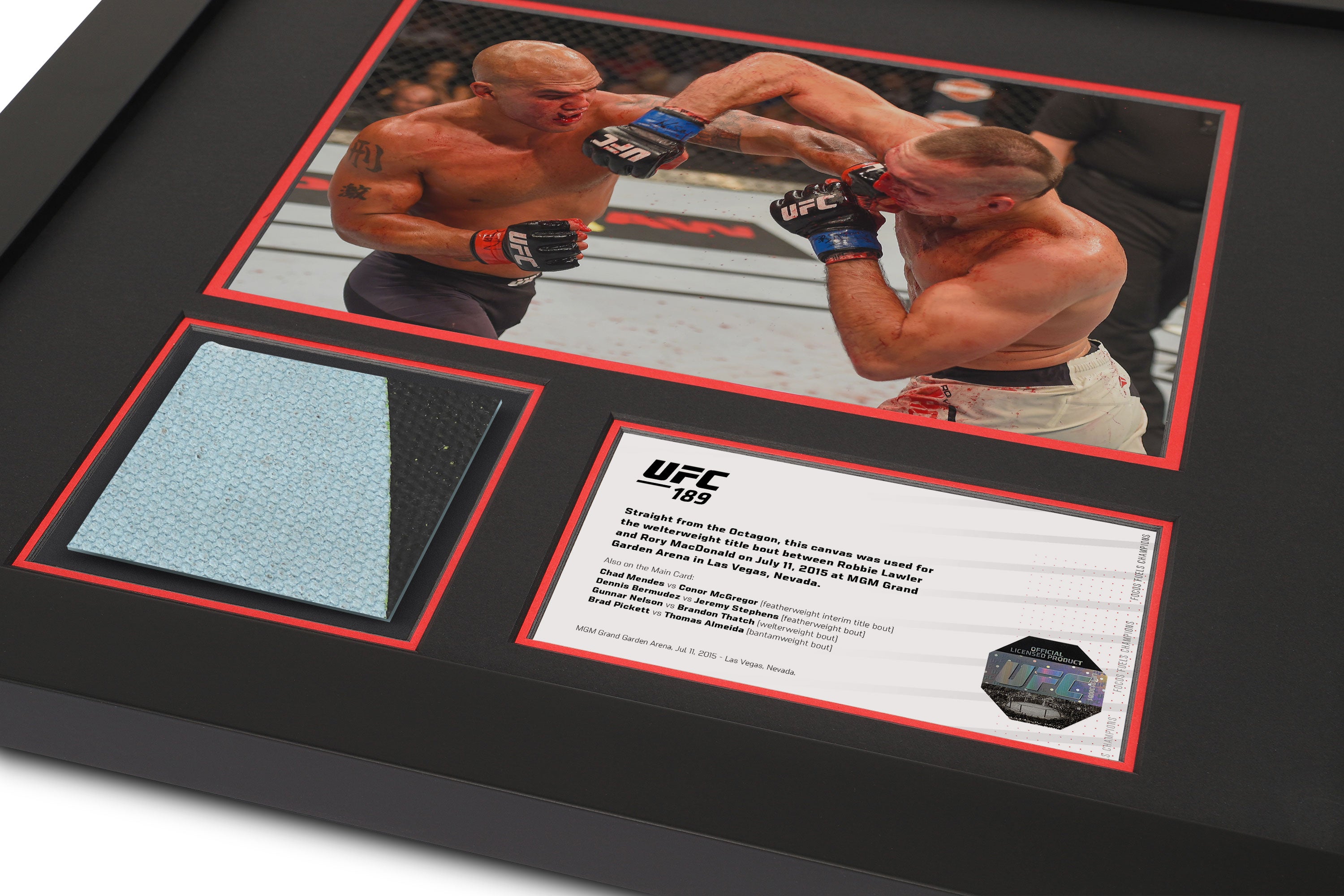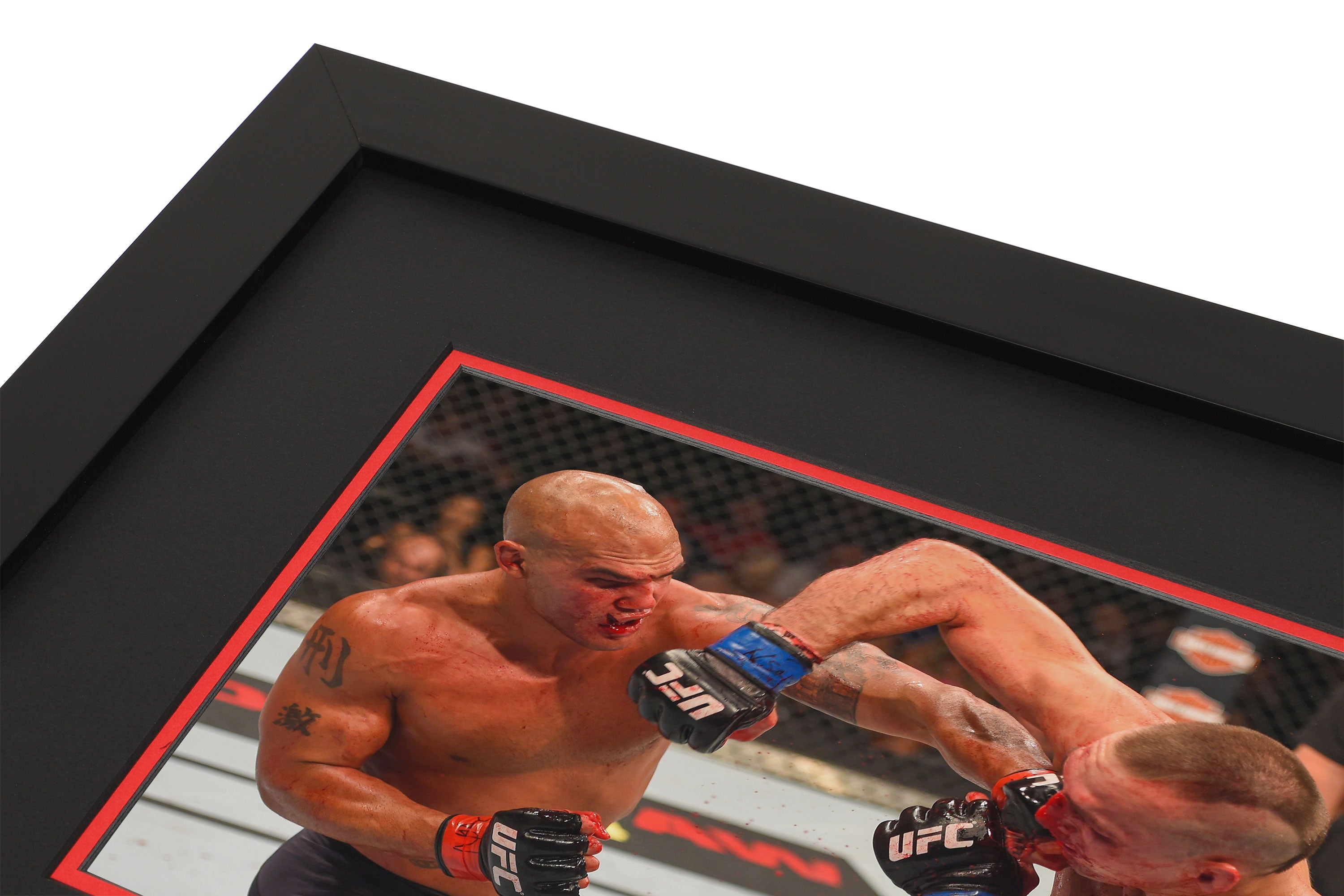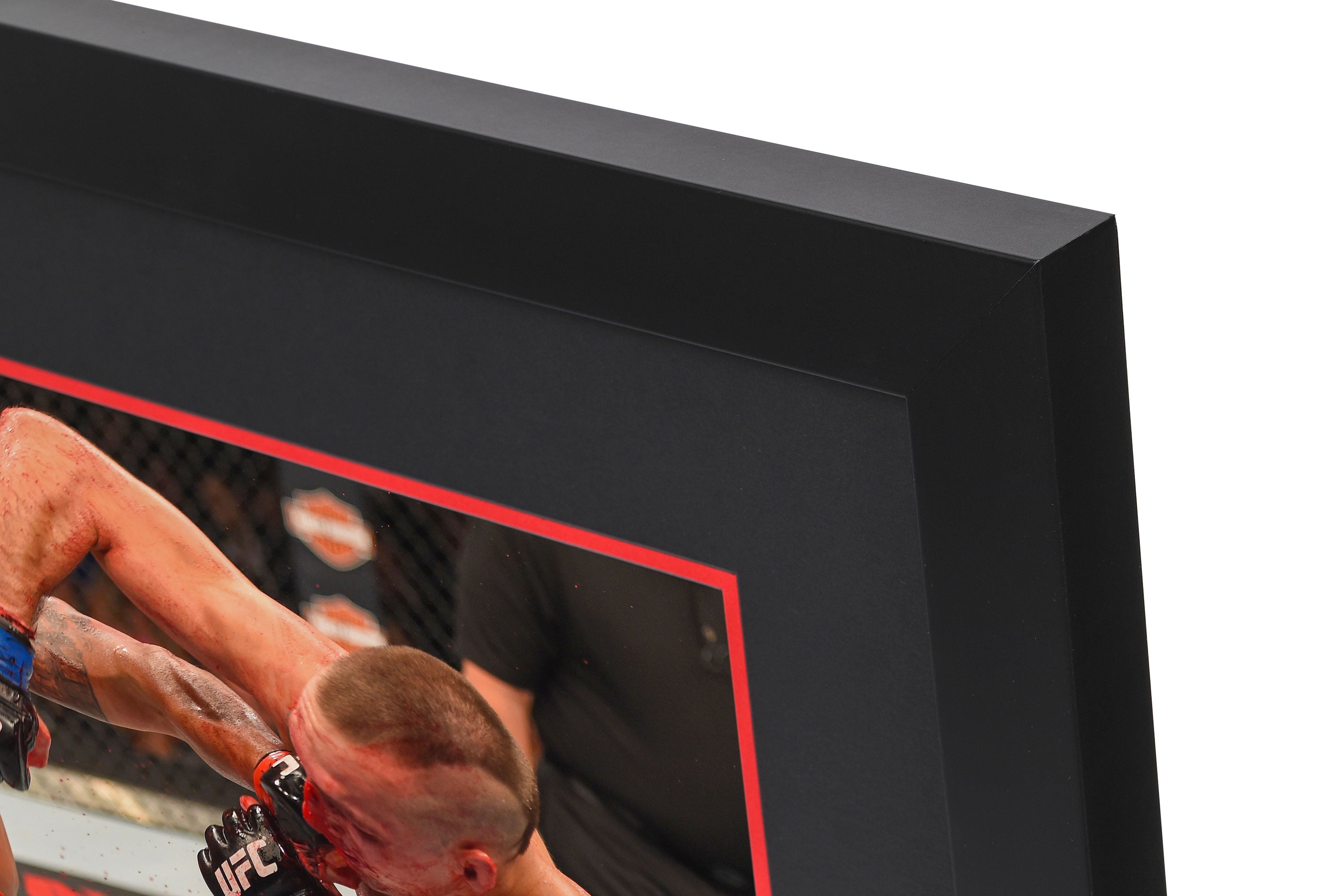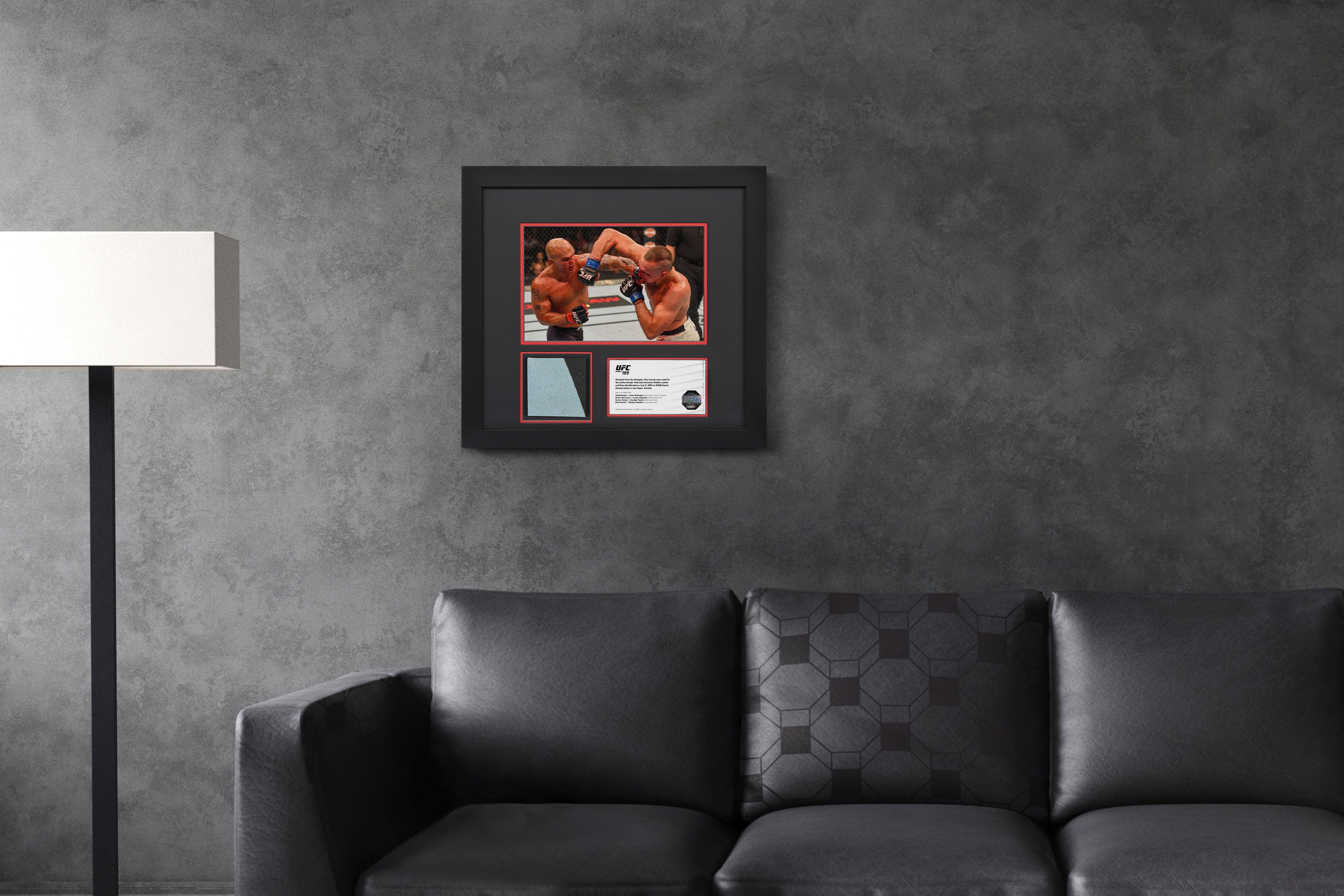 UFC 189: Mendes vs McGregor Canvas & Photo - Robbie Lawler
Relive the thrill of your favourite historical UFC events with this official canvas and photo collectible – featuring a photo of the epic title bout, accompanied by a piece of the canvas that lined the Octagon for the night's event.
The fight was a Title bout at the UFC 189: Mendes vs McGregor event which took place on July 11, 2015 and was held at the MGM Grand Garden Arena in Las Vegas, Nevada. The bout saw Robbie Lawler and Rory MacDonald compete for the Welterweight Championship title.
This photograph was taken during the title fight, which saw Lawler defeat his opponent– winning via KO/TKO in the fifth round and taking home the Championship title. The photo is now accompanied by a piece of the canvas which all 22 athletes who fought on the Main, Preliminary and Early Prelim Cards fought on, with 11 bouts taking place on this canvas. This Canvas & Photo comes professionally framed and ready to display.
This incredible title bout was also voted 'Greatest MMA Fight of all Time' - The welterweight athletes first fought in 2013, during the time where the division was dominated by whom many consider the greatest fighter ever – Georges St Pierre. The pair then fought again at their much anticipated bout at UFC 189, which was later awarded 'Fight of the Year' for 2015. Now, fans can relive the action of one of UFC's most exciting bout and own a piece of the very canvas the athletes fought on.
This product is exclusive to UFC Collectibles.
DISPATCH: 24 Hours
CODE: 150702-0130971415
Specifications
Official UFC Memorabilia
UFC 189: Mendes vs McGregor
Hand-cut Canvas
Used to line Octagon for 11 bouts
Photograph taken during Lawler vs MacDonald Fight
July 11, 2015
Dimensions
48cmH X 50cmL X 3.5cmW approximately