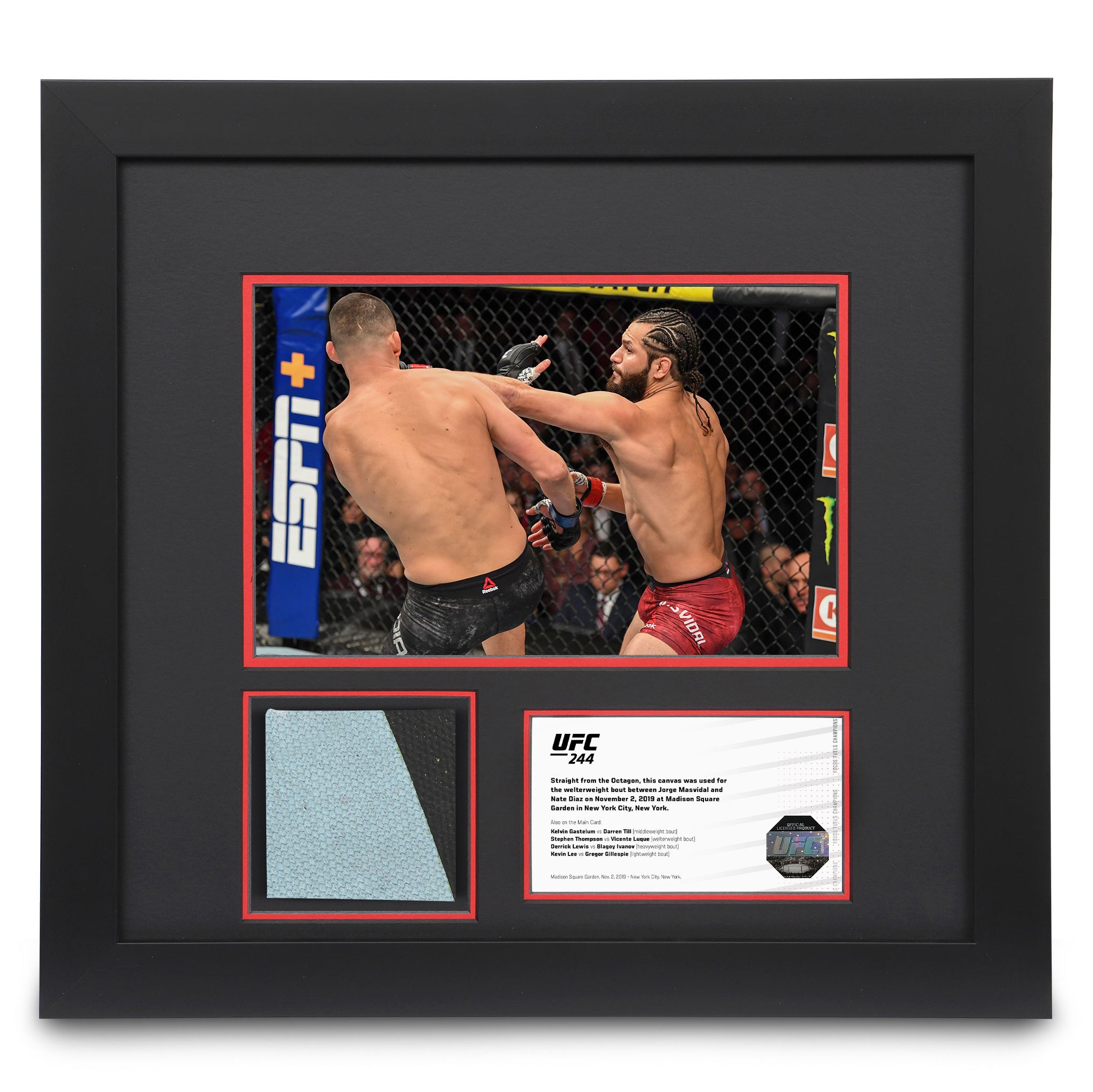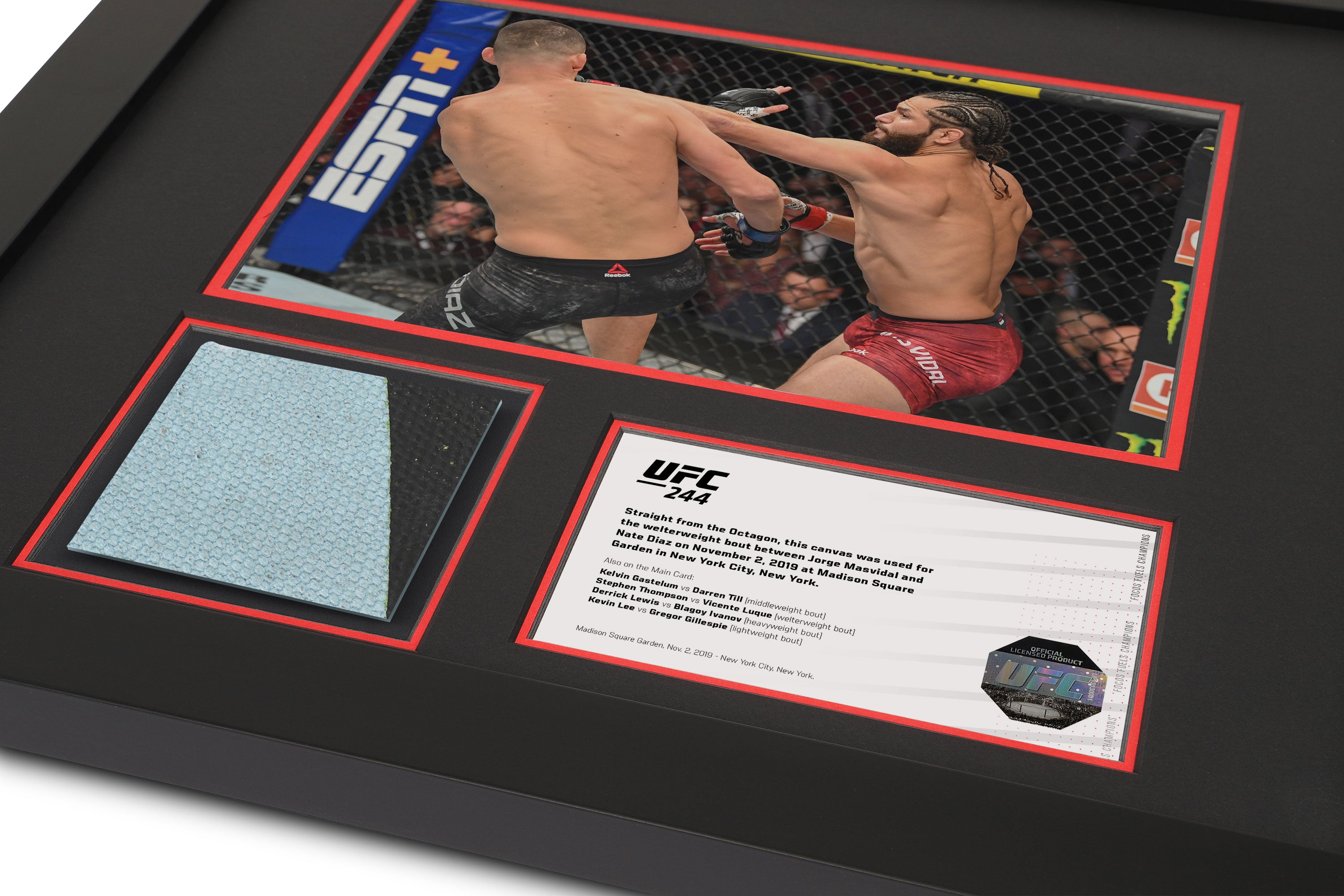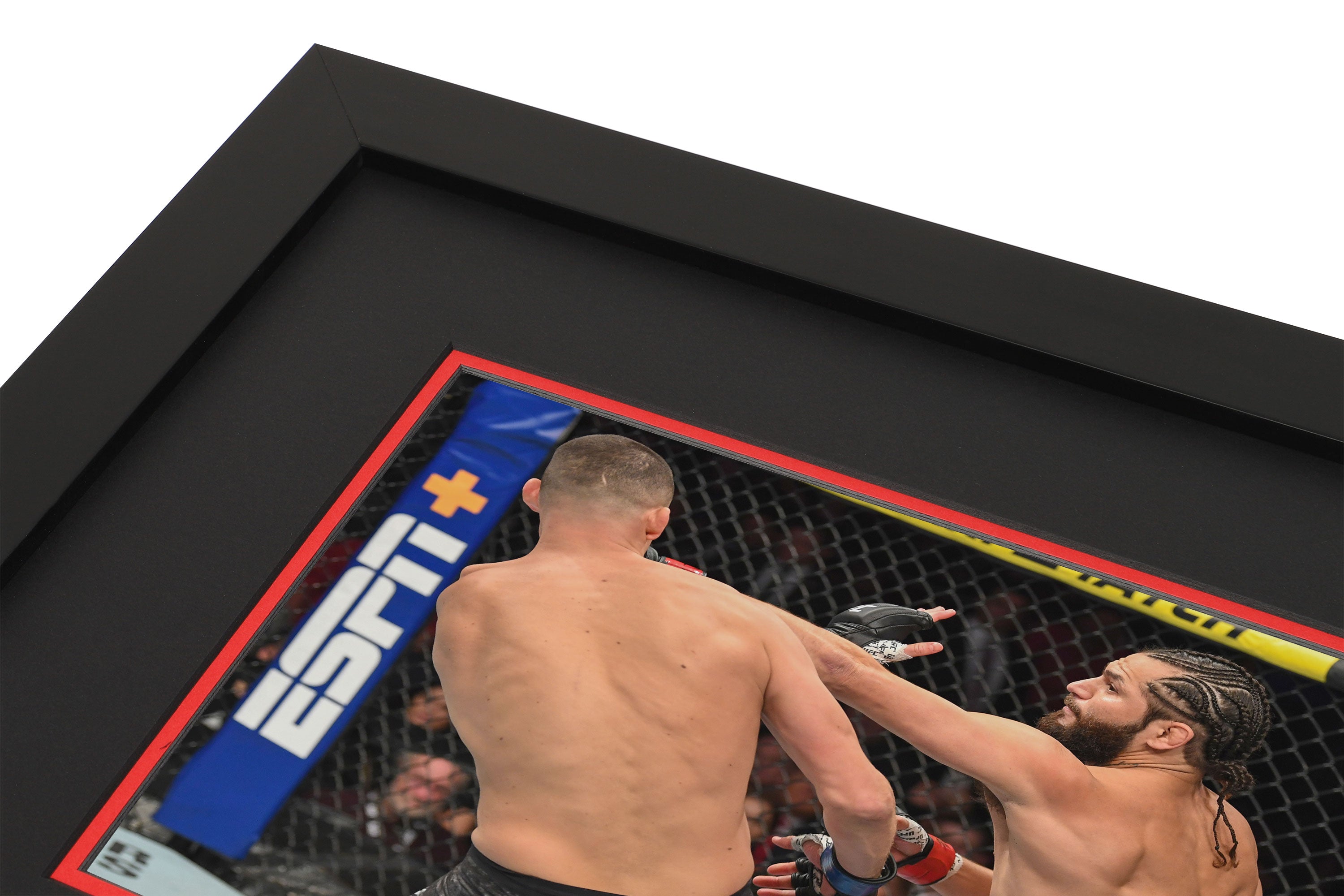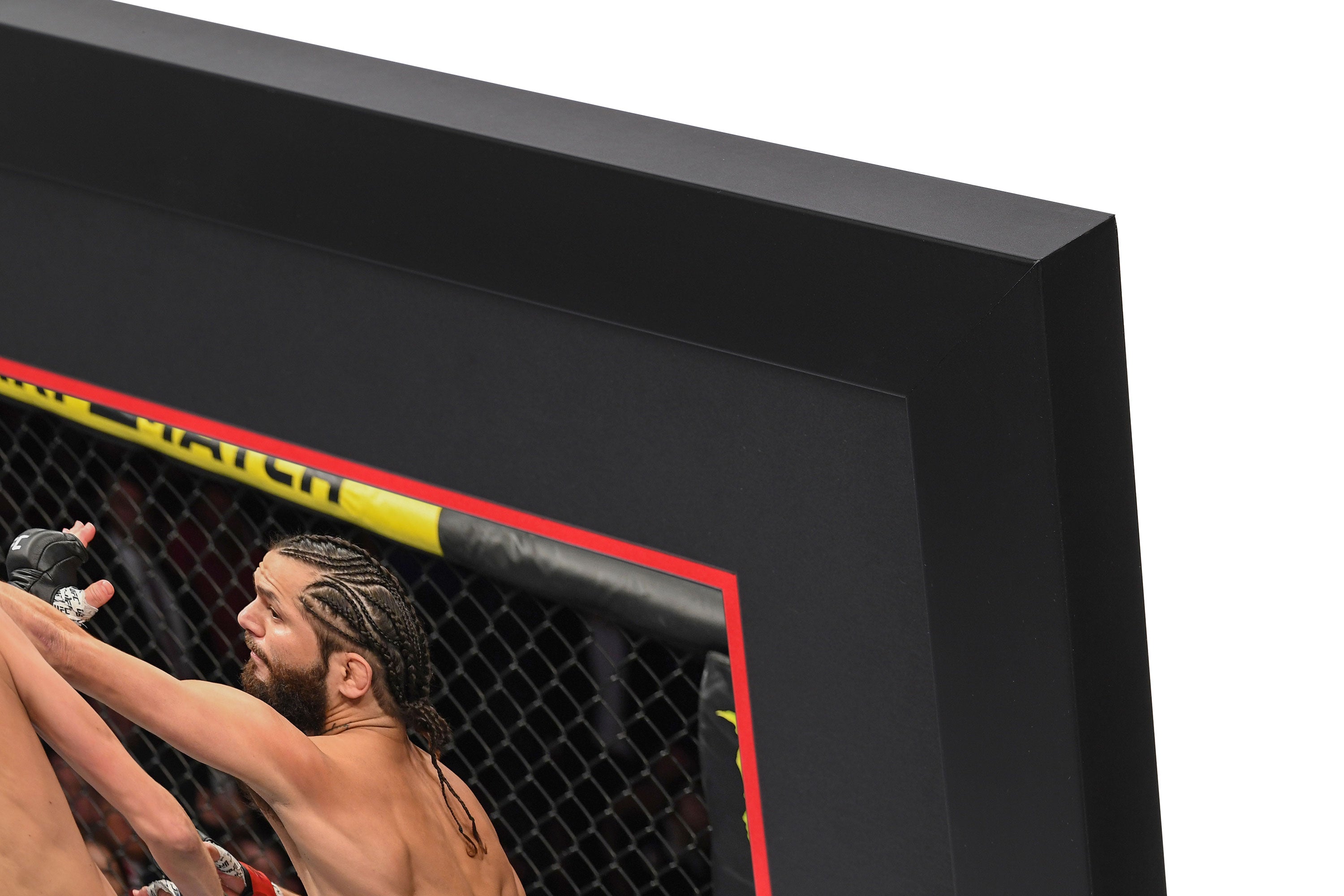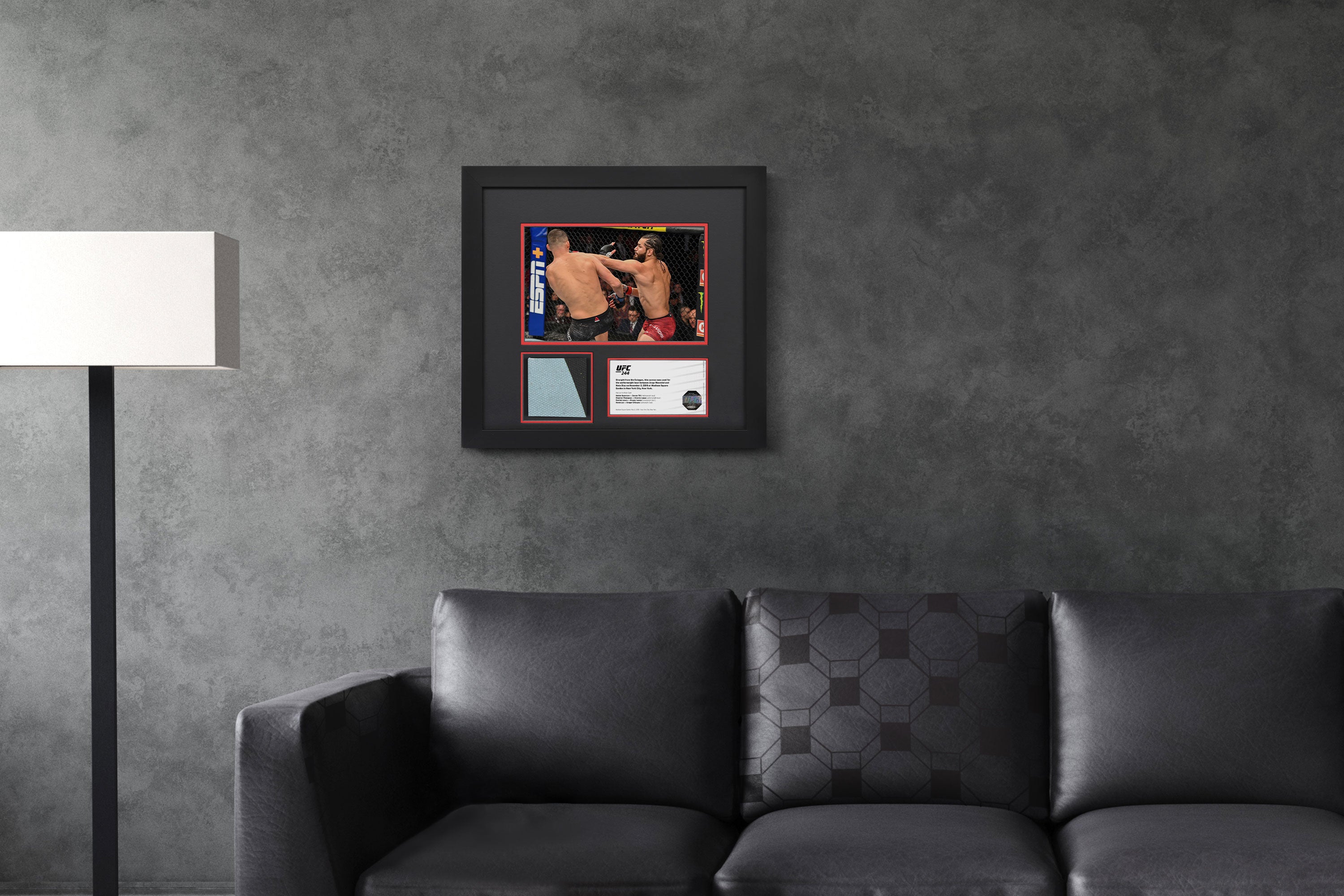 UFC 244: Masvidal vs Diaz Canvas & Photo
Get your hands on this official canvas and photo collectible – featuring a photo of the epic headline bout, accompanied by a piece of the canvas that lined the Octagon for the night's event. This is the perfect way to own a piece of UFC history.
The fight was the headline bout at the UFC 244: Masvidal vs Diaz event which took place on November 2, 2019 and was held at the Madison Square Garden in New York City, New York, United States and it was also the UFC's 500th live event. The bout saw Masvidal and Diaz compete in the Welterweight division.
This photograph was taken during the title fight, which saw McGregor defeat his opponent– winning via KO/TKO in the third round. Masvidal was awarded the TKO victory when the cage-side doctor, Nitin K. Sethi, ruled that Diaz was unable to continue due to his injuries. The photo is now accompanied by a piece of the canvas which all 24 athletes who fought on the Main, Preliminary and Early Prelim Cards fought on, with 12 bouts taking place on this canvas. This Canvas & Photo comes professionally framed and ready to display.
This bout will go down in UFC history, with an entirely new belt being commissioned purely for this bout – the 'BMF Belt' stands for 'Baddest Motherf***** in the Game' and was introduced as Chief Dana White felt a fight a fight of that magnitude, with two very popular athletes, deserved its own belt. This is truly a bout to remember and what better way to commemorate it than with a photo of the unforgettable bout alongside a piece of the very canvas the athletes fought on.
This product is exclusive to UFC Collectibles.
DISPATCH: 24 Hours
CODE: 150702-0113857919
Specifications
Official UFC Memorabilia
UFC 244: Masvidal vs Diaz
Hand-cut Canvas
Used to line Octagon for 12 bouts
Photograph taken during Masvidal vs Diaz Fight
November 2, 2019
Dimensions
445mmH X 450mmW X 30mmD approx