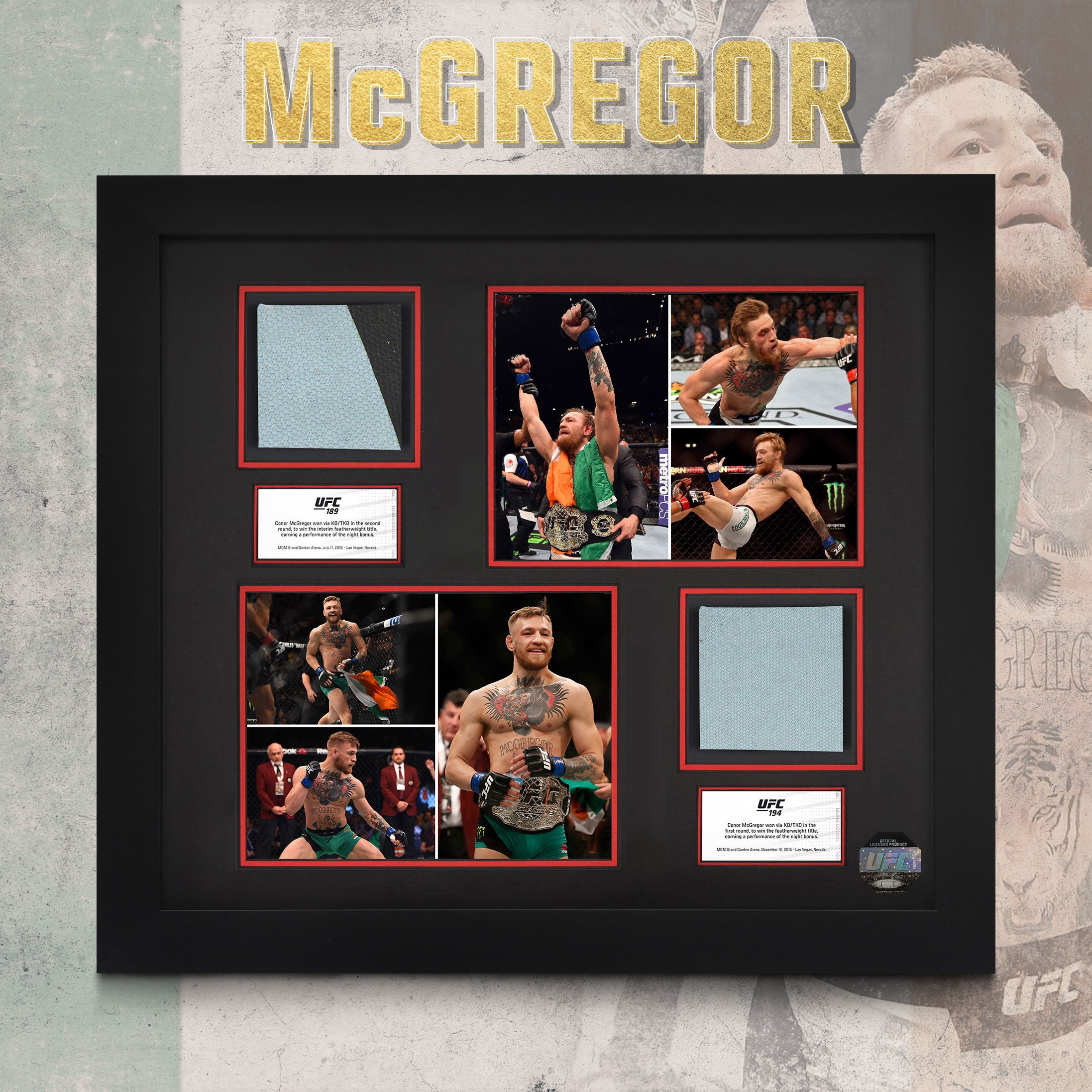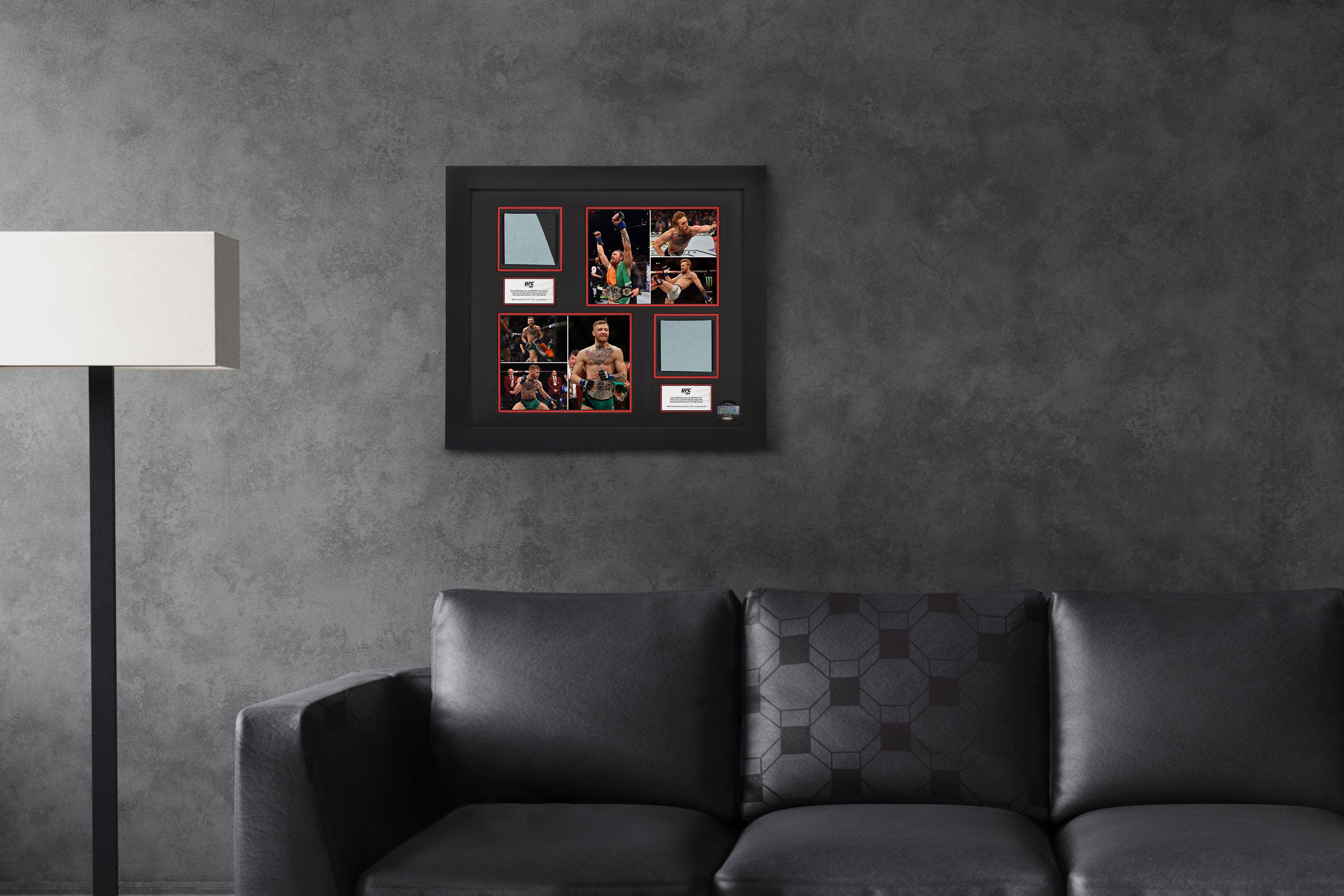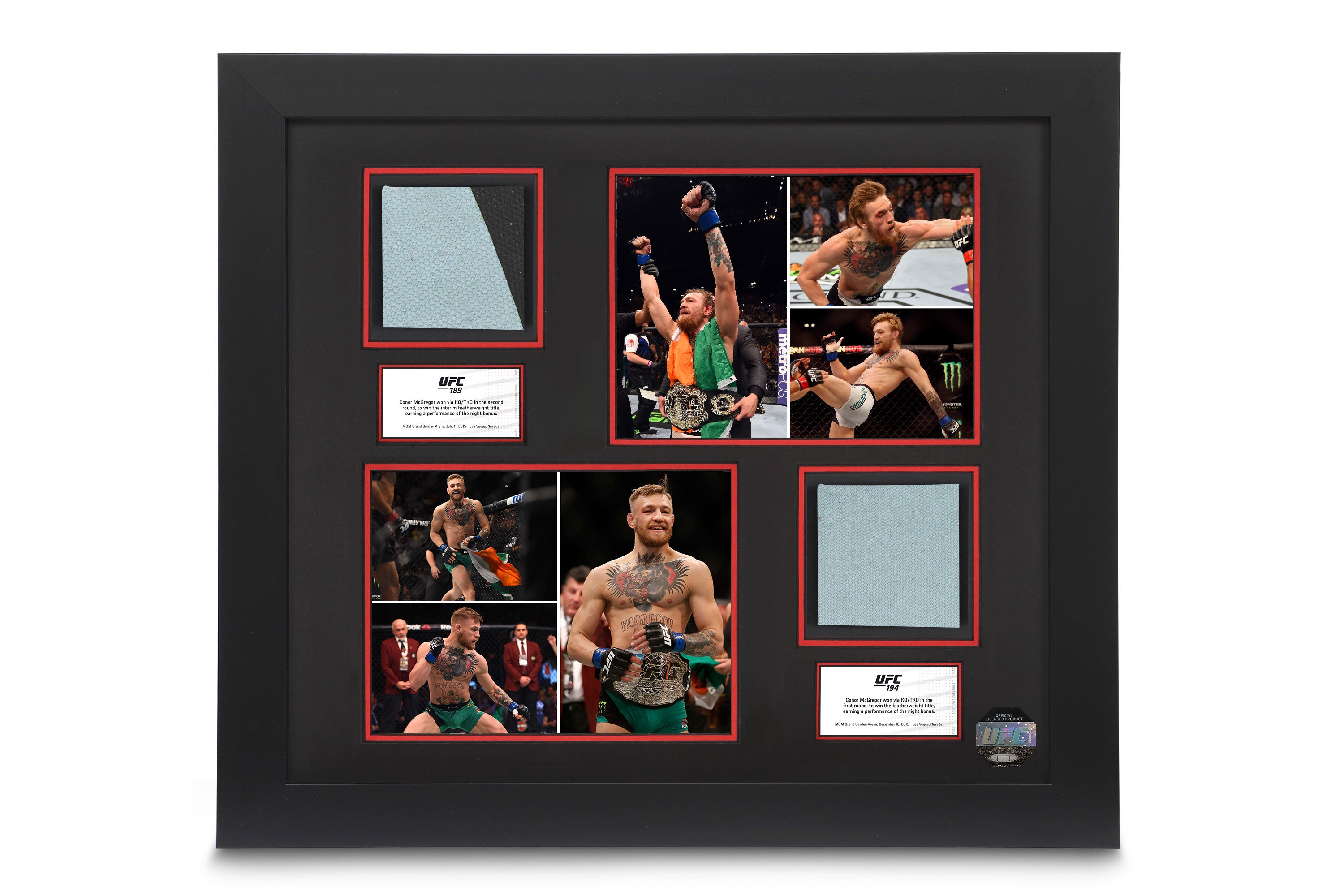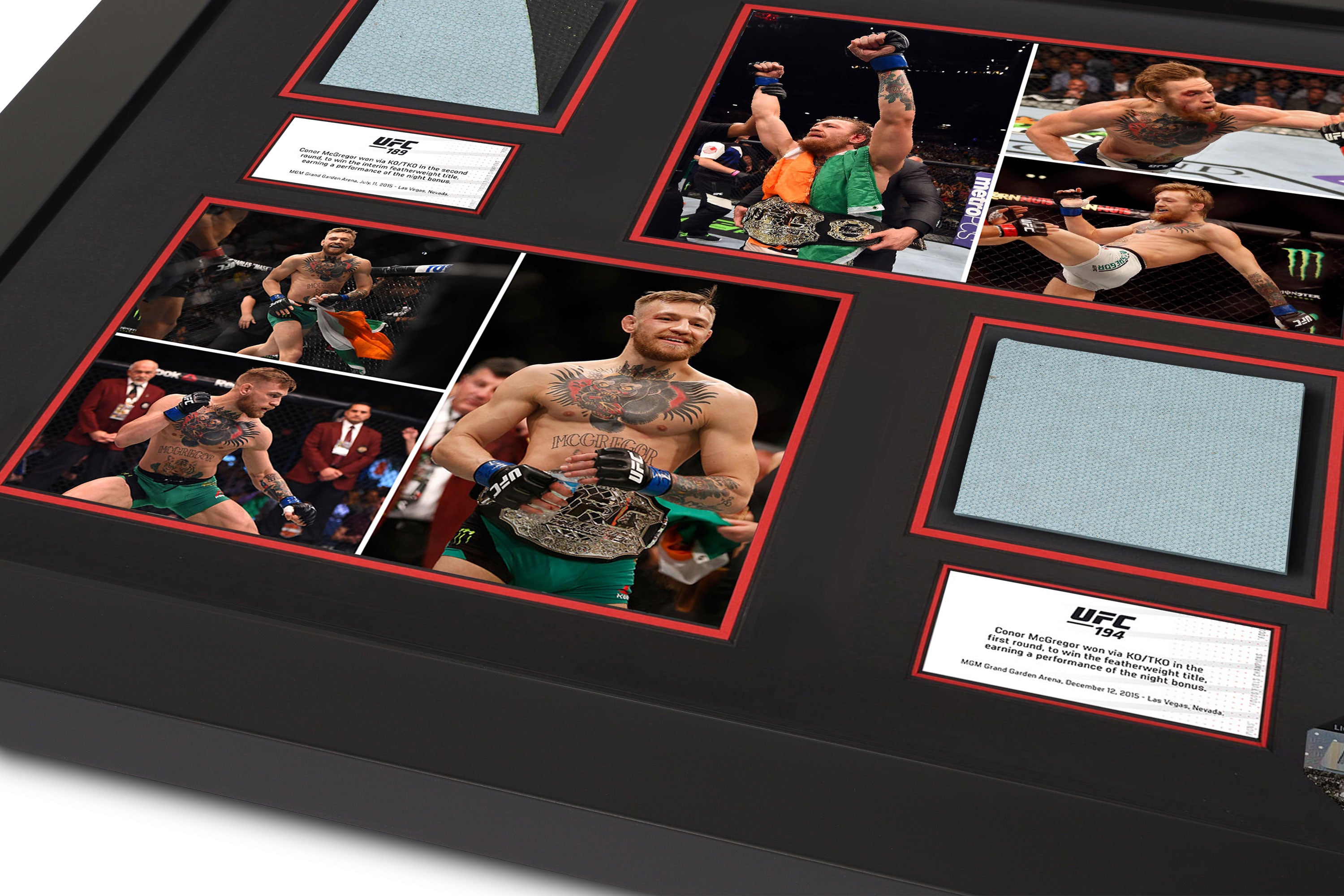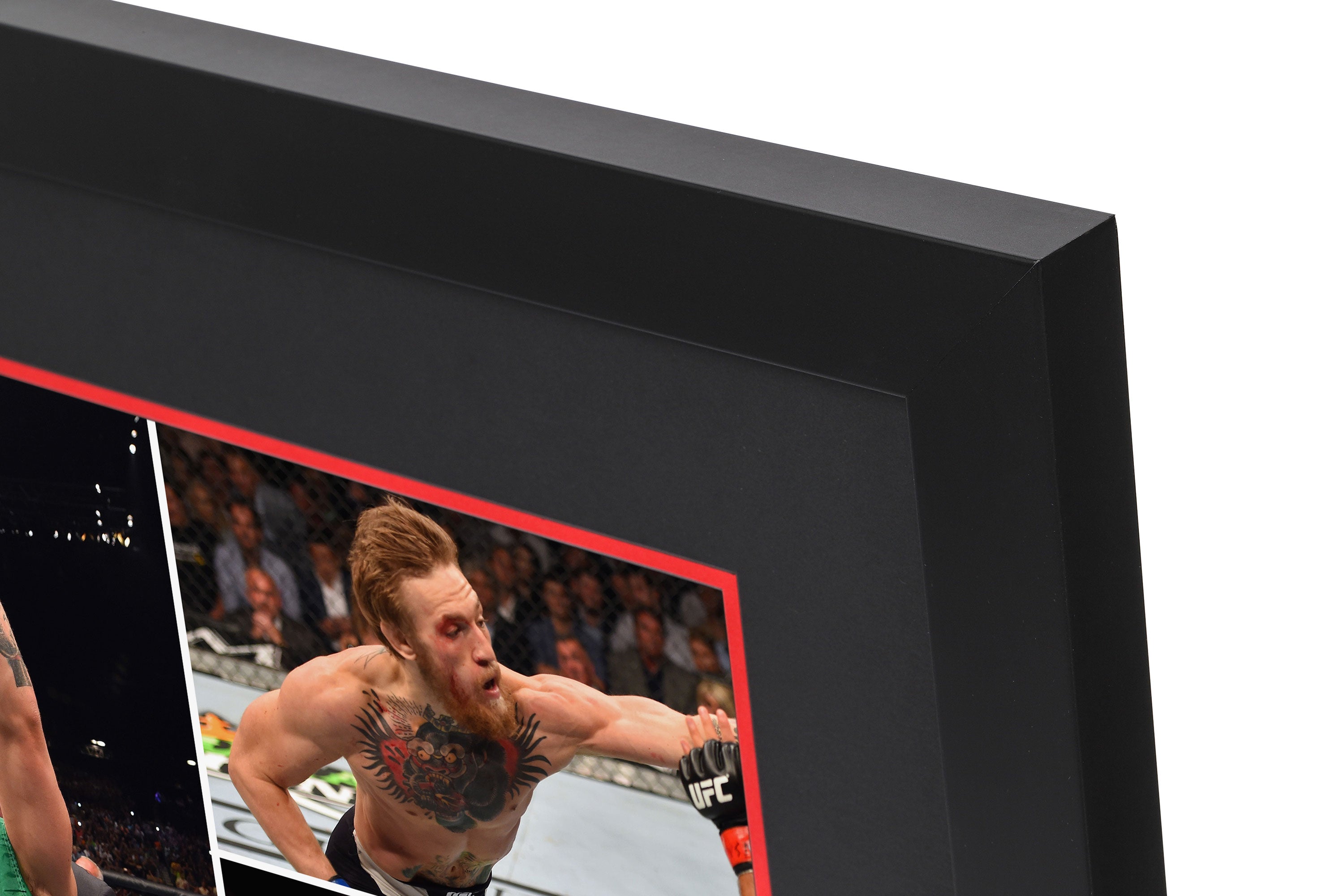 Conor McGregor Limited-Edition UFC Champion Dual Canvas & Photo
UFC 189: Mendes vs McGregor
UFC 194: Aldo vs McGregor
Limited Edition - only 50 available
Looking to celebrate your favourite UFC athlete? Why not add to your collection with this limited-edition display celebrating some of the Conor McGregor's career highlights. This Dual Canvas and Photo display features event used canvas from UFC 189 and UFC 194 – two events that he headlined and won, presented alongside photos taken at each event. This is the perfect display for fans looking to celebrate one of the most notorious UFC stars.  
Conor Anthony McGregor is a former UFC Featherweight and Lightweight double-champion. He is also the first UFC fighter to hold UFC championships in two weight classes simultaneously. In February 2013, the UFC announced that they had signed McGregor to a multi-fight contract, making him only the second fighter from Ireland to compete in the Championship, following team member Tom Egan. McGregor has had a very successful career in UFC and now you can mark some of his best bout wins.  
UFC 189 was held on July 11, 2015, at the MGM Grand Garden Arena in Las Vegas, Nevada, United States and saw McGregor compete for the Interim Featherweight Championship Title against Chad Mendes. McGregor came out victorious, defeating his opponent via KO/TKO in the second round of the headline bout. He secured the coveted title, making it a memorable night for the athlete and his fans and adding yet another victory to his roster.  
UFC 194 took place on December 12, 2015 at the MGM Grand Garden Arena in Las Vegas, Nevada, United States and saw McGregor take on José Aldo for the Featherweight Championship Title once again. McGregor gave an incredible performance, defeating Aldo via KO/TKO in the first round of the bout – making for a very exciting headliner. McGregor was crowned Featherweight Champion once again.  
This special limited-edition display features event used canvas from the genuine canvases that lined the Octagon for both these monumental events. Fought on not only by McGregor, but all other athletes who took part in both events. The canvases are presented alongside a collage of photos from the events, so you can truly relive the exciting moments McGregor secured the Featherweight Championship Title.  
This item is exclusive to UFC Collectibles. 
DISPATCH: 24 Hours
CODE: 150702-010012523
Specifications
Official UFC memorabilia
Hand-cut canvas from the Octagon
UFC 189 & UFC 194
Conor McGregor Championship-winning bouts
Collage of photos from winning moments
Limited to 50 editions
Professionally framed
Dimensions
44cmH X 45cmL X 3.cmD approximately